Kruger park & Hoyo Hoyo lodge
This trip came together fast and on fairly short notice. Alex was traveling to Johannesburg for work so we decided that Tess would fly down at the end of the work week and we'd go on a safari together. An opportunity that we felt like we didn't want to miss. Typically we'll do a lot of research and planning on our own when we take a trip, but since this trip was only planned 2 weeks before we left, we decided to use a safari travel agent. 
Since we've never been to Africa before, let alone on safari, we went into the experience with an open mind. Alex had spent a lot of time in developing countries, so he was ready for anything between a luxury experience and roughing it. With that being said, the experience well exceeded our expectations. Our accomodation for the safari, Hoyo Hoyo Safari Lodge was amazing and the Kruger National Park delivered all the animals we we're excited to see, except for the cheetah, but more on that later. 
Quick facts: South Africa is the southernmost country in Africa. With over 60 million people, the country is the world's 23rd-most populous nation. The largest city is Johannesburg (which we flew into and out of, but barely saw). Numerous mammals are found in the Bushveld including lions, leopards, cheetahs, southern white rhinos, blue wildebeest, kudus, impalas, hyenas, hippopotamuses and giraffes. A significant extent of the Bushveld exists in the north-east including Kruger National Park and the Sabi Sand Game Reserve, as well as in the far north in the Waterberg Biosphere. 
Trip highlights: Living in the park at Hoyo Hoyo, the lions, the elephants, giraffs.. all of it. Our guide Connor and the staff at the lodge were all great. 
Points: Local Beer 7/10 points,  local wine 8,5/10 points, Food (given the venue) 9/10 points
Hoyo Hoyo safari lodge 
A celebration of African style. We stayed on a semi-private tract of land within the Kruger National Park. The park is publicly accessible, but granted the hotel operator that we stayed with exclusive use of part of the park. This meant the that the hotel operator had access to the public parts of the park, while retaining the private use of the part of the park that we stayed in. 
The hotel operator had 3 hotels in their private concession — Hoyo Hoyo (which means welcome in the local language), in which the hotel rooms are modeled after traditional African huts, Hamilton's Tented Camp, which has colonial era glamping tents, and Imbali Safari Lodge, which we gathered was a blend of the other two hotels. 
We stayed at the Hoyo Hoyo Safari Lodge, which featured outdoor showers at each room, private balconies, and a communal outdoor dining area with a pool and fire pit that was lit each night. The hotel had no fences around it, which meant that we required an escort back to our rooms each night since the buffalo that resided around the lodge liked to come within meters of the rooms and dining area each night. The locals say that the buffalo is the most dangerous animal around, since it gives no warning of whether it's irritated, and therefore can charge humans without warning. 
The highlight of the Hoyo Hoyo was the man made watering hole across from the dining area, which was visited by elephants every day between 12 and 3PM. Our room had small monkeys that hung out in the tree by our balcony, and our outdoor shower had views of the impala and kudu grazing. 
The hotel had only 6 rooms accommodating a maximum of 12 people, so even though the dinners and game drives were communal, they were very intimate. The staff was simply superb, as everybody was very warm, friendly, and eager to serve you in the common areas. While we were on the morning game drives, our room would be cleaned and bed made, and in the evening our bed was turned down and the mosquito net around our bed was drawn. As an extra nice touch, the staff would leave us bookmarks each night with a different African bed time story. 
Our very first lunch we got some visitors. And we were over the moon! So happy to see them so close! 
Not only the elephants visited our mealtime. These goofy guys came by once at breakfast time. 
This is the terrace and view outside our fantastic room. 
Food & Drink at Hoyo Hoyo
We were most open minded about the food at Hoyo Hoyo, since we realized that we were in the middle of a national park, so the options may be limited. In this aspect, the food at the hotel blew us away. Mornings started at 5:30AM, consisting of coffee and maybe a quick pastry before the morning game drive. Upon our return at 9AM, the staff had laid out pastries, fruit and coffee for us, and offered eggs and breakfast meats to order. At the end of breakfast we were presented a menu for lunch, which consisted of appetizer, main course and desert, each with two courses. We repeated this process at the end of lunch for dinner. Before the afternoon game drive, we had snacks and coffee/tea, departed at 3PM and returned at 6:30/7PM for dinner. 
Some of the highlights of the food was trying grilled kudu kabobs (essentially bush venison) and ostrich, which was basically like having a leaner steak. We were very surprised that the ostrich tasted almost like having a filet mignon.
The views were amazing as it's hard to complain when you're eating lunch with elephants and dinner with buffalo. 
Our Room
We described the room above, but it featured a traditional African thatched room, African art, bath tub (indoor) and shower (outdoor). While we couldn't take a shower after dinner, since it wasn't protected from the animals at night, we thoroughly enjoyed the views from the shower. The bed was firm, but we both slept incredibly well on it. We went to sleep every night to the sounds of the hyena calling each other, and when we left the room each morning at 530AM the bush was alive with sounds. 
Safari
Our days were very regimented, which was actually incredibly relaxing because the only decisions that we had to make on a day to day basis were what we wanted to each and whether we wanted to start drinking wine or a few beers. The days started at 5:30 AM so that we were ready for our game drive from 6AM-9AM. We also had a game drive from 3:30PM-6:30PM. 
We rode in a classic safari vehicle with no windows and 9 passenger seats. Since our hotel had a maximum of 12 people staying there, we were never more than 6 in a car. Our guide, Connor, was fantastic, and advised us as newbies that at times we'd move very slow, but if he got a call over the radio that something interesting was spotted, we might have to hang on because we'd do a ferrari safari. Halfway through each game drive, we'd make a stop to get out of the car and have the coffee (morning) or cocktails (evening) that were packed in the truck. This also gave us an opportunity to walk into the bush and have a pee, which is an experience that apparently every safari goer has. 
Connor made sure to explain all the animals that we saw and, as a photographer himself, tried to make sure that we'd get the best angles and lighting for the animals that we spotted. He knew that on our last evening we still hadn't spotted a leopard, so when the call came that somebody had spotted one, he made sure to hustle to get there so that we could see it. When we spotted the leopard in the evening light, which was right in the middle of the cocktail hour, Connor made sure to run from his drivers seat to the cooler and toss us our beer/wine and allow us to enjoy our drinks while we watched the leopard in the tree. 
As we mentioned above, we were staying a private area of Kruger. One of the perks given to the hotel operator on the private land, is that if they spotted an animal on their land, they were allowed to take the trucks off road to get closer to the animal (on the public roads everybody must stay on the road). This gave us the opportunity to get extremely close to a variety of animals, especially the lions. While we were searching offroad for the lions on our first day, we actually almost ran over them as they were sleeping in tall grass that was the same color as their coats. We spent 30 minutes watching them only a few meters away.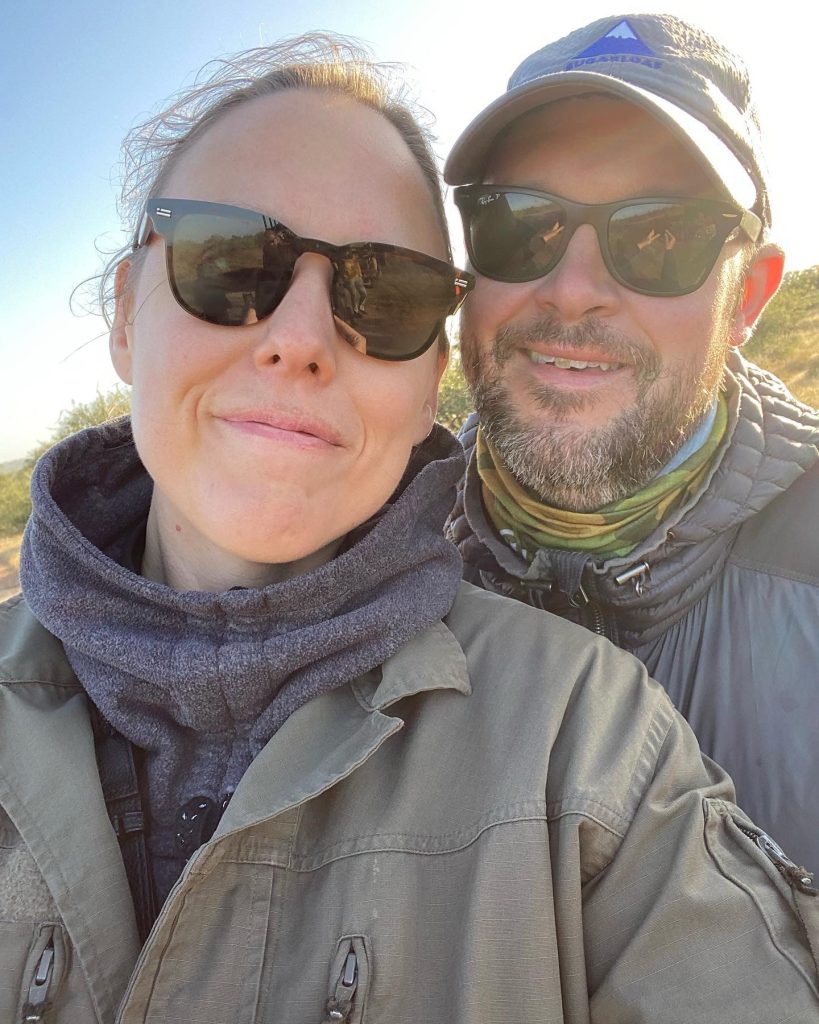 Animals are used to the cars, they only see a shape. Once, our guide sat up and lions saw him, got scared and ran away.
The animals
What you're here for, right. The animals. Same as us, and we were not disappointed. We saw all the animals we wished to see except for the rhino and cheetah, but both are rare in this part of the park. The cheetah are bullied out of the lion territory  and the rhinos are scared of the cars, and also small in population due to poachers. 
Let's start with Elephants
Our favorites! Because there was a baby elephant but also because they are very cool. The social structure is so interesting. They came by the lodge almost every day to have a drink at the watering hole, and one day we heard the trumpet before we saw them – very cool. 
The matriarch runs the show, she disciplined the little ones when they were misbehaving and was the first one to the water and last one to leave. The herd was only females and little ones. 
They came, had a drink or two, checked the area out and played a bit, some sprayed the others with water, and left. 
Mischievous baby elephant being a kid, but not straying to far from mama. 
Male elephants
We said the herd was only female and little ones, and that's because the males get chased away when they reach sexual maturity, and they either live solo or find another male to show them the ropes. 
They walk around, learn what to eat and get the lay of the land until they find a new herd with a female that allows them to mate with her.
This male was enjoying some grass on his own, and did not care at all about us, just chilling eating his lunch. He is left handed (or trunked), and you can see that because the left tusk is shorter, because he's used it to dig for food. He also turns his trunk to the left when we picks up the gras. 
Lions
LIONS! We saw many lions, it's lion country around here. As cool as they are to look at, they're almost a little bit boring, as they spend all day snoozing. Also, as the king of the jungle, they don't have a worry in the world, and happily either slept through or ignored us during the day even as we were meters away. They prefer to hunt at night because they have better night vision and take advantage of the cooler temperatures.
The below photos are from our first day on safari, as the cats woke up with big yawns, a lot of washing and head rubbing. Just like house cats – with murder paws and teeth.
The lonely lioness 
One morning we came across this lioness a 3 minute drive from our lodge. She was on her own, which is somewhat unusual, however our guide told us that, like people, sometimes they leave the group for a bit because they want to be on their own. When we spotted her she was waking up and was looking for something or someone. She started calling out and as we followed her we hoped to see who she was calling for, but she disappeared into the grass and we let her go. 
Hamilton & Imbali prides
There are two prides of lions that the guides are very familiar with in this part of Kruger. They named them Hamilton pride and Imbali pride (after the hotels that they reside near). The first time we saw them it was only female lions and some cubs, but on the last day we saw that the Hamilton pride had been joined by two male lions. One teenager with blond hair and one slightly older with a stylish (!?) Mohawk. 
Our favorite little lion cub. 🦁 
Snoring lion
Here's our tired girl. She was snoozing hard when we pulled up and then we heard something none of the guides – or more experienced safari guests – ever heard before; a snoring lion! She eventually snored herself awake and was startled to see us so close to her. 
Wild dogs
The wild dogs are a rare sighting in the park, and unexpectedly the coolest thing we saw, as there are only 600 or so wild dogs in the nearly 2 million hectares of Kruger. We rolled up on these guys early in the morning and it was clear that something was up as they were very active. We had passed an impala just a few meters before we reached them, so we assumed that they were after the impala, and a few of the pack headed in the direction of the impala. However, the ones that headed to where the impala was (and we were focused on) bolted in the blink of an eye to a thicket, and we were treated to the most rare of sightings – the wild dogs successfully taking down an impala (not the one we saw on the way to them). It was gruesome on the one hand, and extremely cool on the other. It happeend so fast and they had picked the impala clean in less than 10 minutes. Afterwards, the dogs were bloodied and celebrated like pet dogs do. These guys are apparently the most efficient killers in the park, with a hunting success rate of over 90%. 
After their hunt, they came so close to the car that we were almost able to touch them. After celebrating their kill (and playing tug of war with the impala's stomach), they marched on down the road to their next hunt.
Sensitive readers be warned!
Here's the impala feast! 
Giraffes
We don't know how to describe them really. They are kind of like dinosaurs with their long necks and patterns, but also goofy and confused looking, surprised every time the car came around. 
Leopard
The last day – on the last safari – we finally saw a leopard! It was high on our wishlist coming to South Africa. We spotted it on the border road between the private and public parts of the park so we couldn't go as close as we wanted, but it was so cool non the less. It chilled in a tree, looking out over the bush, probably looking for dinner. 
He stood up, and we thought he was making a move, but then sat back down and chilled some more. So cool and pretty! 
Unfortunately we were also loosing the light so it was hard to get great photos. Maybe next time! 
Hippo
One thing we had almost given up seeing was the hippos. They are nocturnal and very shy. They do not like the noise of the car, and when we drove up it dove down and hid, so we had to sit still and quiet until he reappeared. 
This was his private pool. No one else was welcome, and he had his eye on us the whole time. Hippos are very tempermental and territorial, as they'll kill you for being in their way and since they're not carnivores – not eat you. That's not even killing for sport, its just killing because you're annoyed. 
Zebras
A little but skittish – and since they are prey its understandable – but also curious. Just like the giraffes they'll stare at you for a long time before deciding to move or not move. Also cute when they put their heads together saying hi. 
These zebras are black and white with some brown as well, which we thought was dirt at first but nope, it's a third color. Apparently the zebras and giraffes in different parts of Africa have different patterns. 
Oh, and we also saw a baby zebra! So fluffy still, and staying close to mom. 
Monkeys, antelopes, impalas, a mongoose and many more
We saw so many animals! All very cool, some harder to capture than others though. A herd of impalas came by the watering whole the last day and we could see them hanging out and playing together. We do feel bad for them being eaten by all the pray animals because they're so pretty. The guy with the white stripes below is the kudu, which we had for lunch one day. Apparently the baboons live by one of the other hotels and can be a bit of a terror, as they travel in a big pack, are strong and very cunning. 
Sunsets 
Can we talk about the South African sunsets? They were amazing! Just gonna leave these here. 
Mornings weren't so bad either
Cold mornings with mist and pink skies! 
Poster
It was sooo hard to choose a poster from this trip, we love so many of the photos, but we settled on the mischievous teenage elephant by Hoyo Hoyo. Also, we printed like 4 more photos. 
Africa – we will be back!
Get notified!
Want to receive an email every time we post about a trip? Sign up below and we'll let you know.