The emerald of the north
In the middle of the darkest months during Swedish winter we decided to head north, and visit the beautiful Lapland and its largest city. Alex had been once before but this was the frist time – and the farthest north – Tess had been. 
We did a long weekend, we left Stockholm Thursday and returned Sunday afternoon. A perfect getaway for some relaxing and just enjoying the quiet and calm north.
Quick facts: Kiruna is located in the northernmost Sweden and is the largest urban area in the Lapland province with 16,661 inhabitants. The city is built on top of an iron mine, and the whole city is being moved because of the effects that the mining has had on the land.  
Trip highlights: Aurora Borealis and saunaing. 
Points: Local Beer – (didn't have any), Cinnamon buns – (no cinnamon buns), Kiruna overall points: 8,5.
Traveling
We flew to Kiruna from Arlanda, which took about an hour and a half. SAS flies to Kiruna fairly frequently and it was a pleasant flight. We had time for a drink and some reading before the wide snowy scenery appeared outside the airplane window. 
We landed at Kiruna airport and the mild winter air in Stockholm had been replaced with Kirunas chilly winds. We booked a cabin in the Aurora camp, which was maybe 30 minutes outside of Kiruna, and our cabin was the Lodge house. A very nice looking wood cabin with a little terrace and a fireplace. 
The Aurora camp had very friendly staff, decent facilities and a very nice sauna. We can highly recommend it if you want peace and quiet and beautiful scenery. 
Since the camp was a bit aways the only way to get there and back was to book their transfer service. They picked us up at the airport and stopped at both Systembolaget (for booze) and Ica (for food), so that we could load up for the weekend. 
They drove us pretty much everywhere and except for the one time we almost hit a moose and her calf, there were no problems. And, Alex was more excited than scared to see a moose up close. 
The Aurora camp – Points: 7,5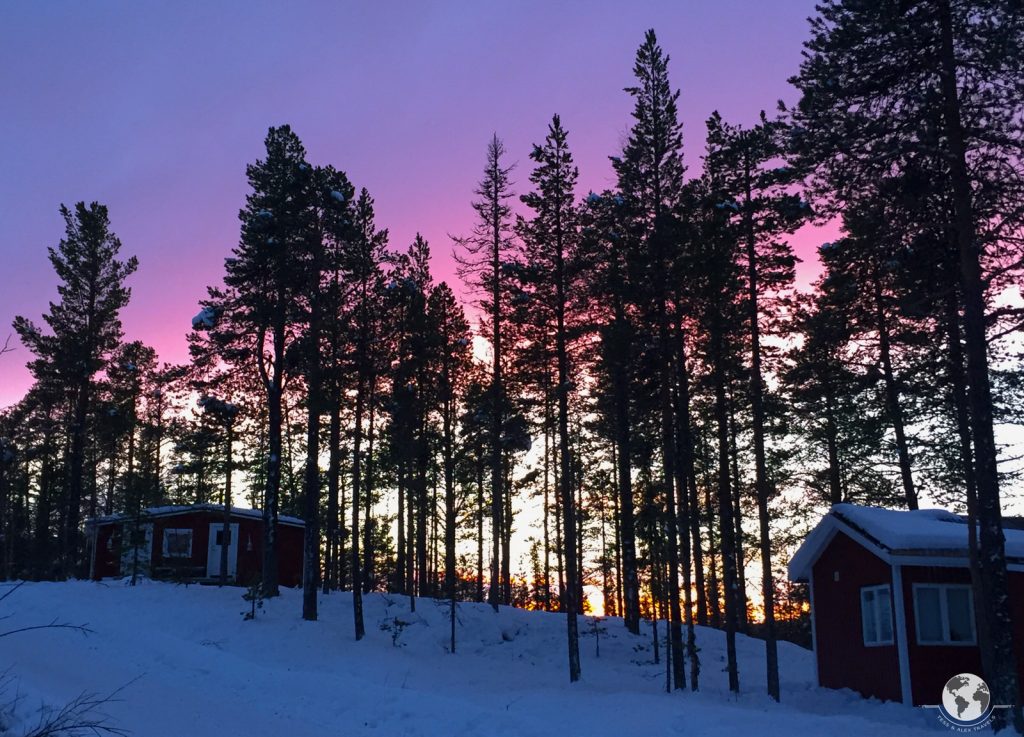 Exploring Kiruna
We spent most of the time in the cabin and in the camp, taking walks, watching Netflix enjoying the sauna and chilling in front of the fireplace. But we also wanted to explore and do some proper Kiruna-things. And, we really hoped to see a proper Aurora Borealis – The Northern lights. 
Saturday we went to the Ice hotel in Jukkasjärvi, pet reindeers and went on a scooter safari. 
Petting reindeers was fun but hard. They did want the food we brought but were not to fond of being petted. Feeding them was also a bit scary, they are like big dogs with horns, and when they smell the food they come running. Unaware of their big horns. 
I call this photo series "Guys i promise there's no more food":
Nicely captured by a laughing Alex. Mostly at how scared I was. 
Alex was much more chill than Tess, and even made a friend. 
The Ice Hotel
After surviving feeding the reindeers (yes, that's how it felt, but still fun) we went to the Ice hotel. Famous all over the world for their rooms made and sculpted out of ice from the Torne river. 
The rooms all have different themes, some very cool and some a bit scary. We're talking about the clown room. The clown room was scary. A good tip is to stick around a bit after seeing the open rooms, as they might open new ones. 
You can pay to go inside and look att the rooms that are currently not occupied and visit the Ice bar, where they serve drinks in glasses made of – you guessed it – ice. 
Well worth a visit but dress warm, it is cold inside as you might understand, being made of ice. 
Scooter safari
Later that afternoon we were picked up for the scooter safari. In Kiruna centre we got proper clothes consisting of a warm snow suit, proper winter boots, gloves and helmets. Emelie and Alexandra were our guides and they were super friendly and told us a lot about Kiruna, the people and what it's like to live in the land of the midnight sun. 
Driving a scooter was hard, but fun. Tess started but we took turns driving and got helpful advice from our experienced guides. The caravan headed out into the Kiruna woods and was made up by us, our two guides, a couple from Taiwan and a guy from South Korea.
We drove for a while taking breaks to switch drivers and warm up. Stopped on Torne swamp where Emelie said the Northern lights usually can be seen. And sure enough, a sliver of green appeared in the distant. 
I brought my camera and was very happy I did. Patiently trying until she got one that was fairly sharp, our guide managed to capture it with us in front.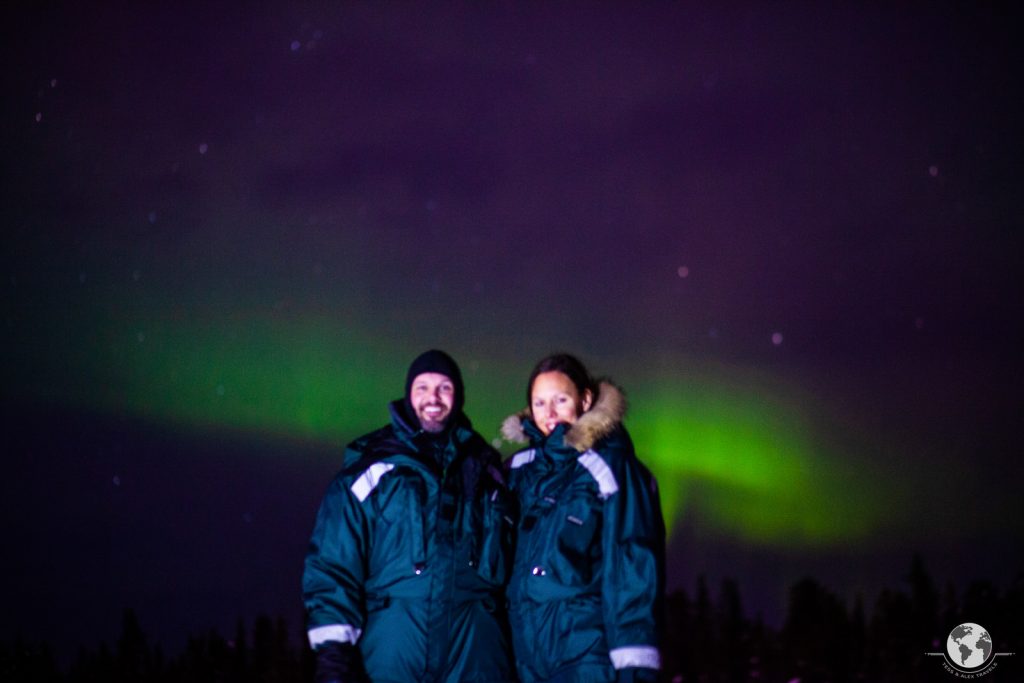 We arrived to a small teepee (Kåta in Swedish), where we got to warm up and have some dinner. Dinner wasn't great, reindeer meet in a stew with much cream. 
How do you light a fire without a match? Tess now knows and successfully managed to do it. After a while of trying. Quite a long while, to be honest. But nevertheless a success.  
Just in time for dessert the Aurora Borealis appeared again. Dancing over our heads.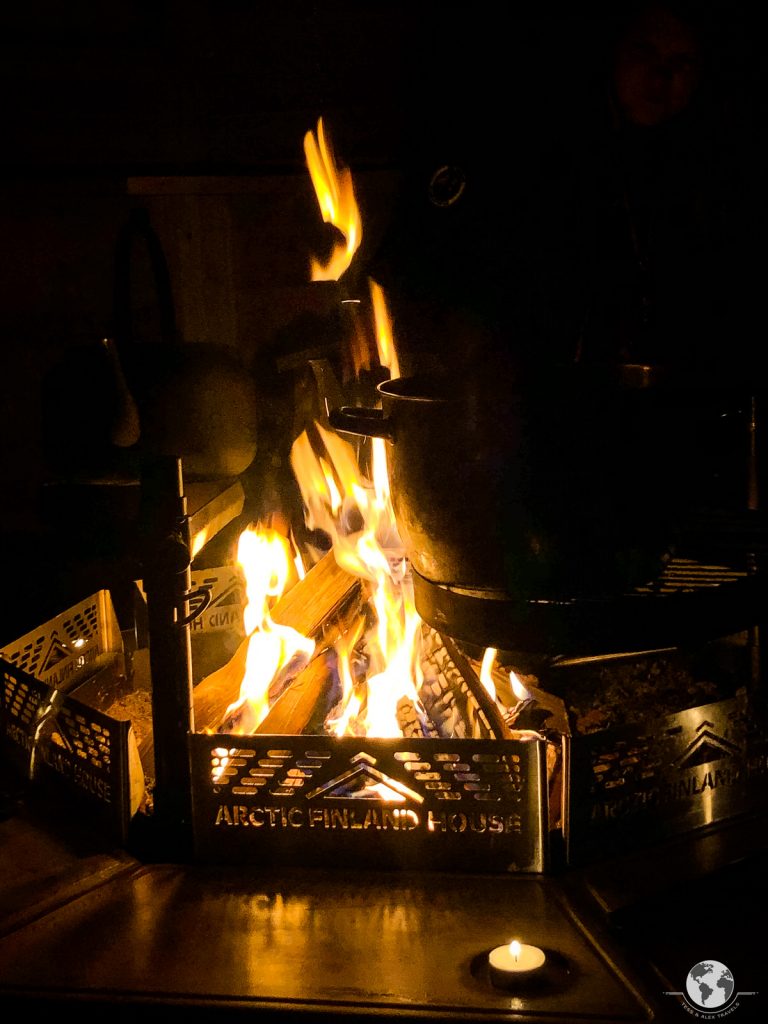 Aurora Borealis
In our cabin there was a book about the Northern lights and it said that if you see the Aurora Borealis with your love it is very lucky. And we were very lucky, the lights came out and dances over our heads for so long that we didn't want to go back inside. Twice. 
Friday evening after some card games and board games in the cabin, we decided to take a walk. One of the guys at the camp said there might be a herd of reindeers down on the frozen lake, so we thought that might be fun to see. 
We walked down and to our disappointment there were no deer. But, we saw a slight sliver of light on the sky. We'd read that sometimes the Aurora is hard to see with your eyes, but if you take a photo it will appear stronger. So we walked back to get the camera. 
When we came down it was slightly bigger but still weak and white. Not even the camera picked it up. Walking around we met a group of germans living at the camp as well, and they had heard that the Aurora was coming out in a bit so we waited. And then, there is was. 
Is started small, faint and light green. Like a blurry vision on the sky. But then it grew and was literally dancing over our heads. Bright green and moving like waves. Amazing. 
Tess didn't bring a tripod but the germans did and lent it out, to great joy for Tess. A real tripod is much preferred to the makeshift tripod/outdoor candleholder that we brought from our cabin. 
Two nights we saw this miracle on the sky, and it made us very happy to have seen it. It was one of the first big ones of the season and they said that it was even spotted over the city centre, which is highly unusual.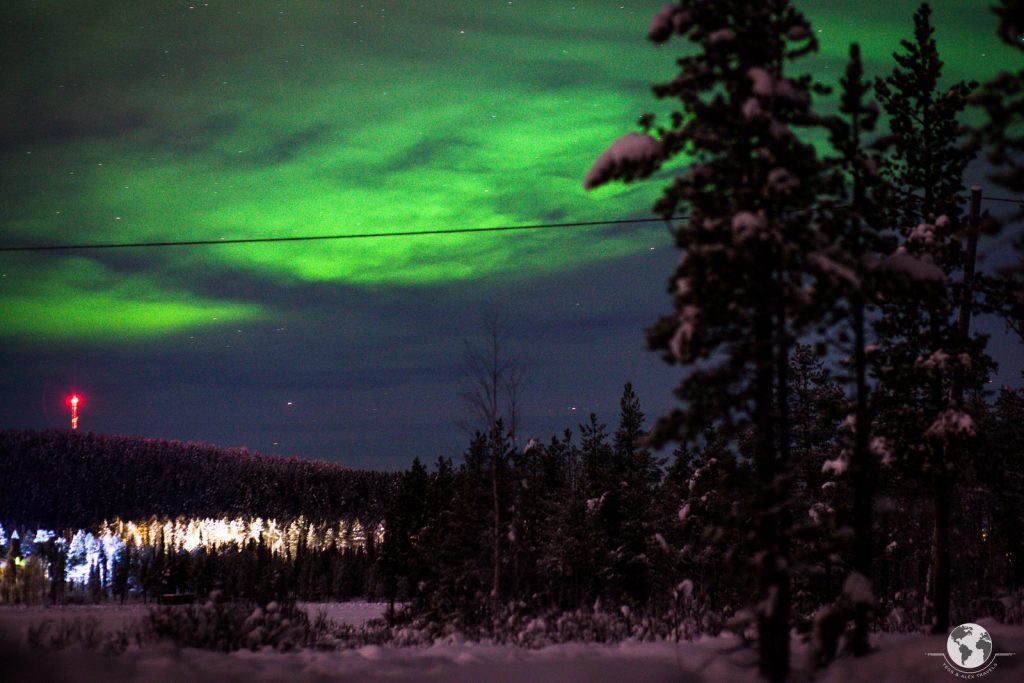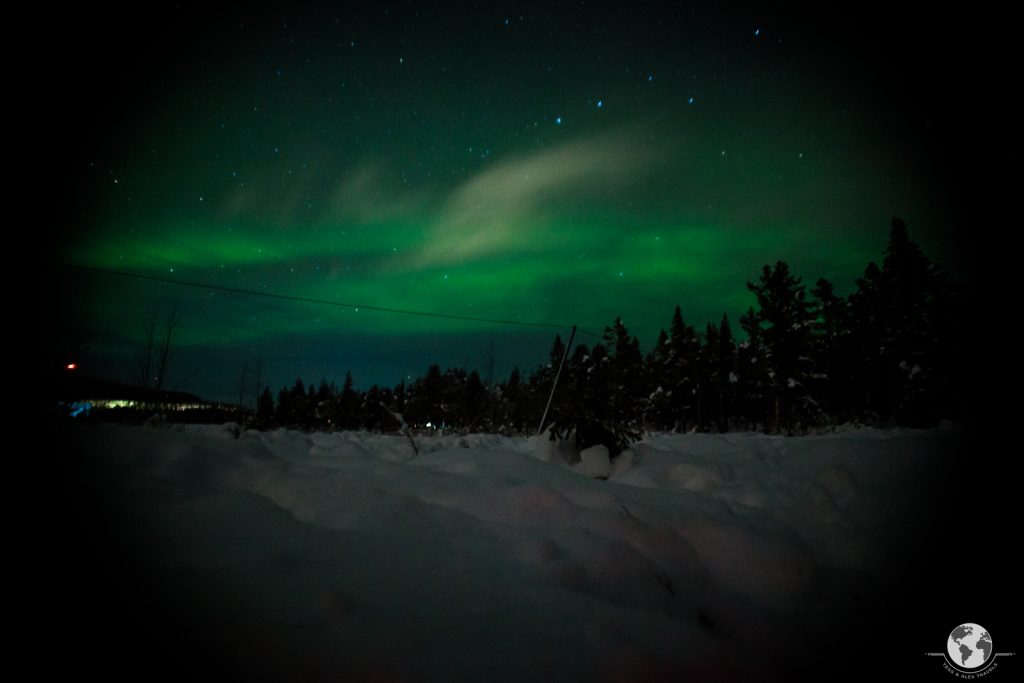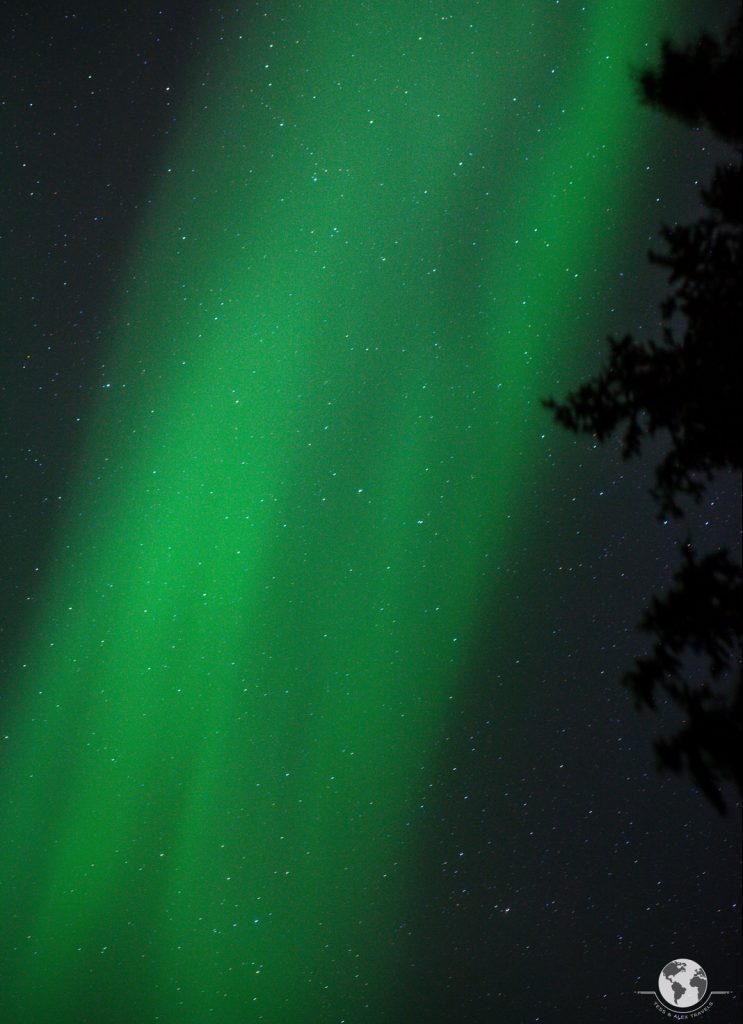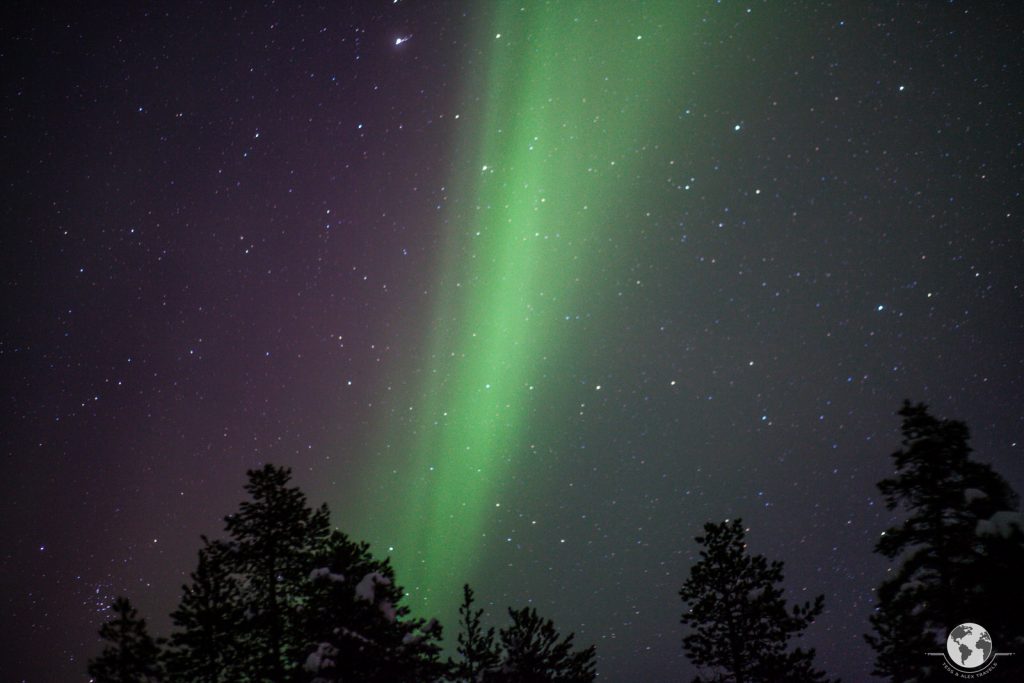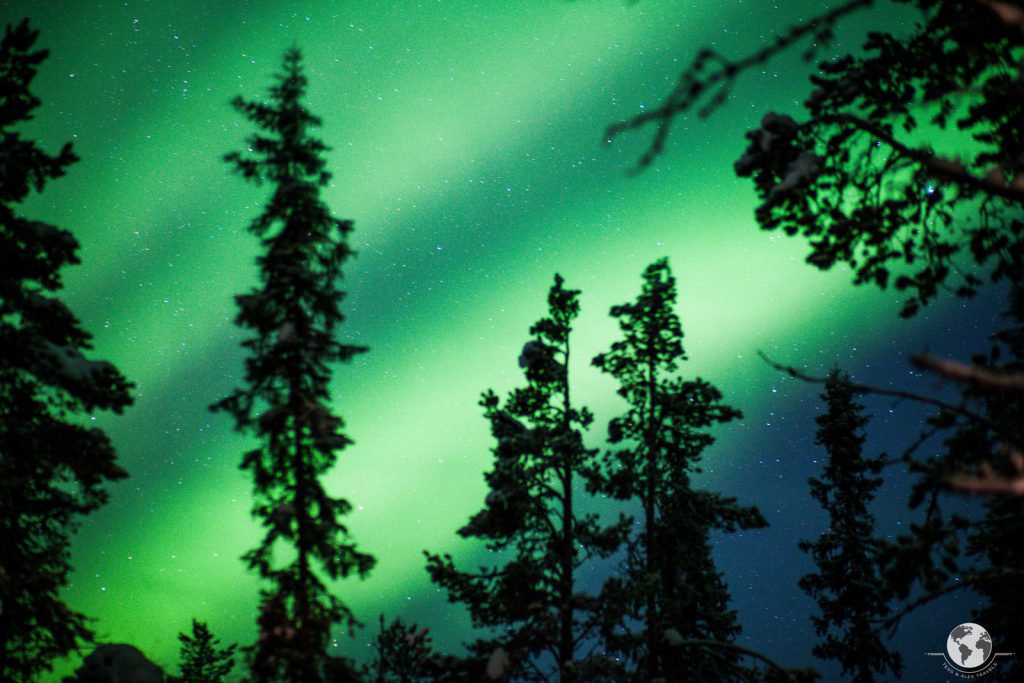 The poster
We started a tradition of making a poster for every new place we visit together, to put up on our poster wall.
After this trip the decision was very hard. So many amazing photos, but in the end we choose this one. We wanted the light and the trees and the snow.
Cozy weekend
This was a super cozy weekend and we can highly recommend it if you need to get away together.
We finished of the weekend with a sauna before getting on the plane to Stockholm. Two termies (terminal beers) later and we giggled all the way home. 
Thank you Kiruna and the Aurora Borealis!