Trip of a life time
2021 we did it, the trip that we were supposed to do a year earlier, the fantastic trip we looked forward to so much. The wedding we were invited to 2020 got re-scheduled to the same weekend 2021, and we decided to go. Not the easiest trip to plan and prepare for, but it turned out very very well. We decided to split the trips in different posts, so please also check out the Jackson hole – Wyoming and Rhode Island posts. 
Quick facts: Vegas is an adult playground, creates an overstimulation of the senses, where everything is over the top.
Trip highlights: Great food and service, the O show, fantastic hotels and craps. 
Points: Local Beer 10/10 points, Vegas overall points: 9.
Flying Mint
We started our official vacation in Vegas. This adult playground with stimulation everywhere and beaming sunshine.
But, let's actually start with the flight there. Alex booked JetBlue Mint, which is first class, with the seats that become a flatbed, which was a game changer for a flight that departed at 9.30PM and landed at 1.30AM Boston time. Mint is famous for its food, and it lived up to the hype.
As soon as we sat down we were served a drink and there was a nice welcome present on our seat, along with a drink and food menu. Tess has a nice white wine, chicken, pasta with tomato sauce and a buffalo mozzarella dish. This was almost restaurant quality food and by far the best that either of us had ever had on a plane.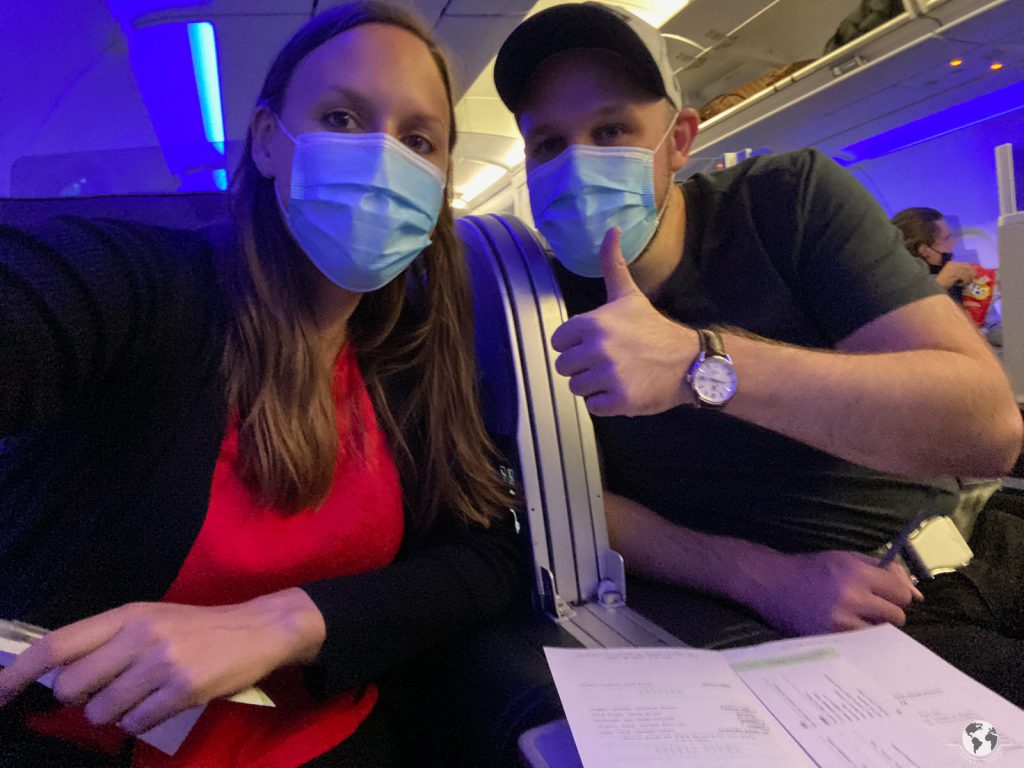 The Cosmopolitan
The young, trendy, stylish hotel. Sounds just like us. 🙂 
Landing along the strip was exciting, Alex had researched which side on the plane to sit on so that we would have a view of the strip as we approached Las Vegas airport, and the cab ride from the airport was overstimulating as well with all of the sights and lights. Seeing all the lights and huge hotels and casinos. We checked in, and to our excitement got upgraded to a room with a balcony and a view of the Bellagio fountains. Best hotel room I've ever stayed in–it was even bigger than the first apartment that we lived in together. The bed was sooo nice, with duvet that felt like sleeping on a cloud. We loved it!
This was the exceptional view, our room was fantastic! 
Eating goooood food
We love our chef shows, and a lot of the chefs have restaurants in Vegas. We had a list, it was long, and we realized that there was not enough meals in the number of days we were there to do all of them so we had to select which ones we didn't want to miss. 
In no particular order, let's start with the best steak we've ever had.
Craft steak
We are huge Top Chef fans, and visiting head judge Tom Colicchio's steakhouse was at the top of our list. Alex had been before in NYC, but never in Vegas;  this was Tess' first time. So after losing a quick $100 at the roulette tables at MGM Grand, we headed over to CraftSteak. 
The concept and feeling in the dining room was very nice. Cool, polite and helpful waiters. Even the guys filling our waters was great. We got recommended a Napa Valley Cabernet from Duckhorn, a vineyard that Alex had bought wines from before, and it ended up being the best wine we've ever had. We knew that we wanted to try the beef short ribs since we had made Tom Collichio's short rib dish before, but we asked the waiter whether we should try the NY Strip or the Ribeye — he recommended the ribeye which turned out delicious. For sides we had Maui onions and roasted potatoes and for desert we had some sticky toffee pudding which was amazing.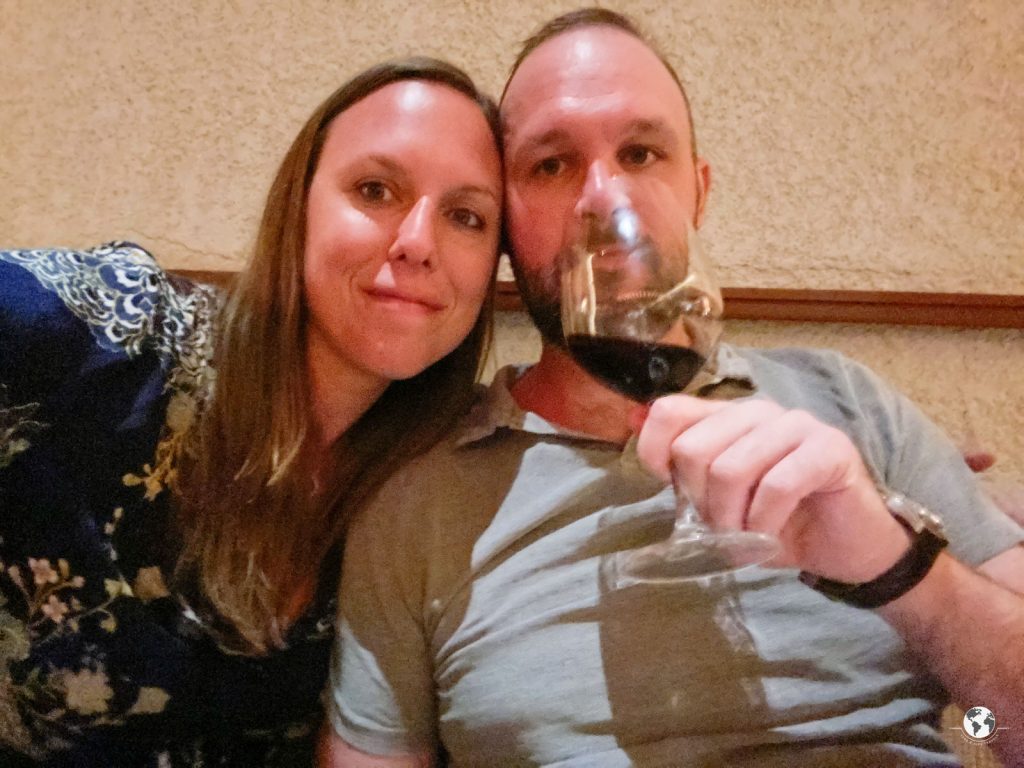 Best friend by Roy Choi
Have you ever eaten so much you felt like you were gonna explode? That was us after this meal. It was totally worth it though. Best friend was not only a taste experience, but the venue is mind boggling as well. When you step in it looks like a very cool LA convenience store. Then they take you to the back to a room thats part club part dining room with a DJ booth. Not only that, but it's hard to figure out who is who as the waiting staff wear tracksuits as their uniform and drinks are served in Solo cups. 
Tess discovered Frosé, fantastic start. Then we had popcorn shrimp, fried rice, korean tacos and BBQ. The highlight, and a reason to fly all the way back to Vegas, was the Korean BBQ. Just, the most delicious thing we ate this trip – and we ate a lot. 
"Did we want dessert?" she asked. She "strongly recommended the date cake". We were already very full. But, why not. That was a very good decision. Soooo good! And then we almost exploded and had to walk around to digest. Good night.
If you haven't heard of Roy Choi, look him up, and if he has a restaurant near you – go eat. 
The black sheep
Tess mouth was on fire after this visit. But again, worth it. 
We watch a lot of Top chef, and the chef and owner of the black sheep, Jamie, is one of our all time favorites. The restaurant is located a 15 minute Uber ride off the Vegas strip, and before we went, we knew we wanted to go for a visit. When we arrived we had the nicest waiter who asked where we were from. When he found out we were from Stockholm, we explained that we watched Top Chef with a VPN and were huge Jamie fans, he made sure that she came out visit our table. She was just as sweet and bubbly as she was on the show, we liked her even more. 
Now to the food. It was Vietnamese fusion and very spicy, but also new and different. We had an Asian ceviche, scallion pancakes, spring rolls and duck confit, which is duck slow roasted in fat. Tess tried everything, but it was at the top of her spicy scale. Overall, the food and service was excellent and well worth a trip off the strip.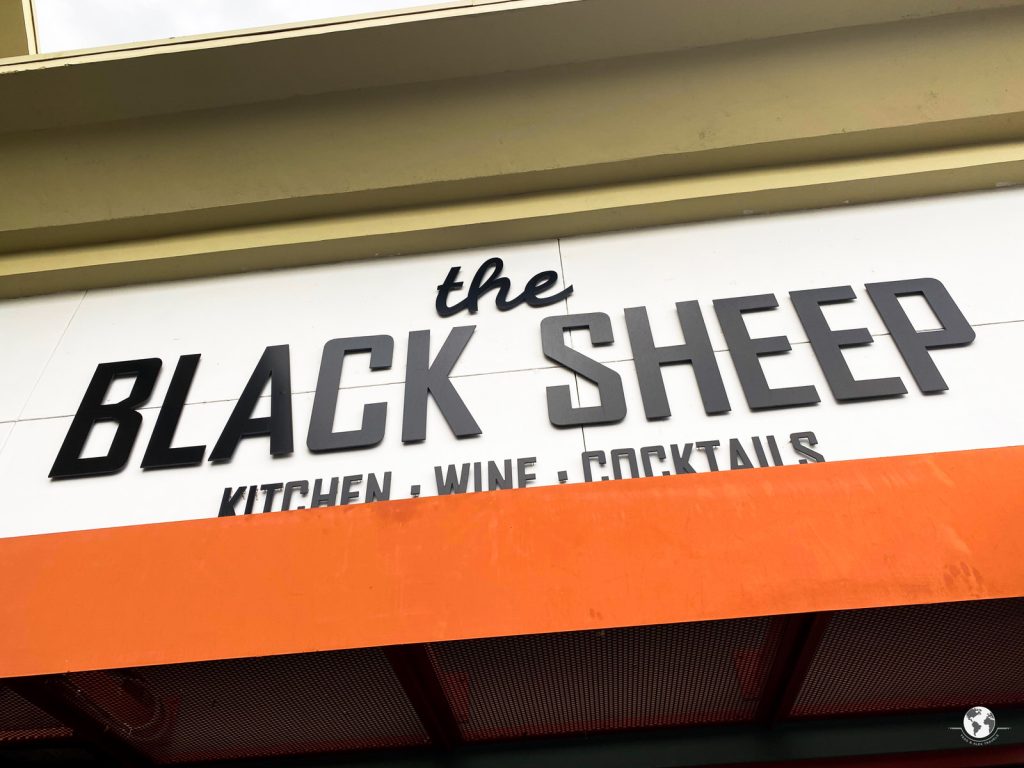 Wicked spoon
Something many say is on the "must try list" for Vegas is one of the buffets. After watching a lot of Youtube reviews we opted for the Wicked Spoon buffet, conveniently located in our hotel. Some days the line is hours long, but we utilized our jet lag to make sure that we were there early and we missed the lines and were seated very fast. 
It was an overwhelming experience, they have so much food that you can't possibly try everything. You have to be a bit selective, even if thats hard, so that you don't fill up on boring things like fries while there's more exciting things available. While other Vegas buffets are known for either their excess or focusing on a type of cuisine, the Wicked Spoon is known for producing high quality small plates with a bit of an Asian flair. The dessert table was also a dessert island, with a number of fresh baked pastries and sweets and an ice cream bar. Again, we ate so much that we almost exploded. 
Tess had a fantastic raw tuna salad, and loved the tacos, and Alex agreed that the tuna was the highlight.
Emeril's New Orleans fish house
Another Top chef judge that we like, and that has a different style restaurant, is chef Emeril Lagasse, who is known for his Cajun and New Orleans style cuisine. Since this style of food is hard to come by in the Northeast US, we decided to make a visit. They're famous for their jambalaya, is a seafood, sausage and rice dish which Alex enjoyed. Tess had a fried shrimp dish that was good, not great. 
Overall our visit to Emerils was good, but not as thrilling as we would have hoped, so a slight disappointment, and the service was far far from the service we got at Craft. 
Below you can see the photo Tess took of Alex, and then below to the left is the first photo Alex took of Tess…..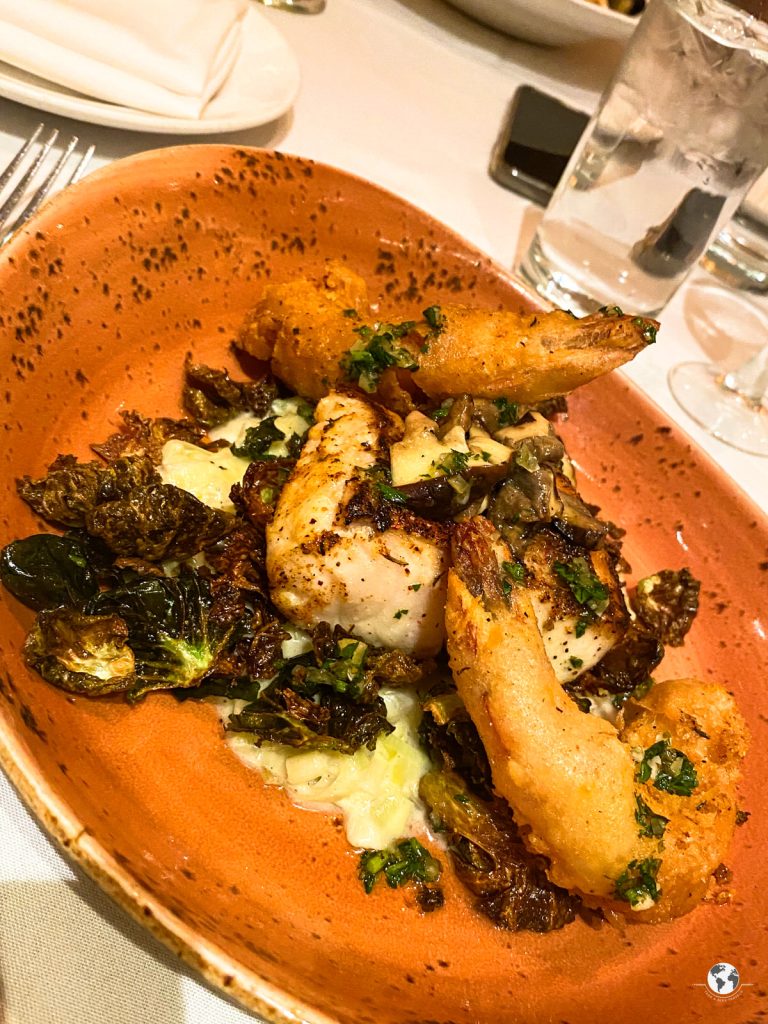 Jambalaya above. 
Shrimp dish to the left. 
Momofuku
As we said, there were more restaurants that we wanted to try than number of meals on this trip, and Momofuku was one that we couldn't fit in our schedule, but, we decided to take advantage of the fact that it was in our hotel and offered a happy hour menu to go for an appetizer before our dinner at The Black sheep. We had fries with coriander – that were impossible to stop eating – and a bao slider – also super delicious. Plus drinks of course (if you can see it, the sign pointing down at Tess says drinks). A very nice visit, we're glad we stopped by, since we had watched a lot of David Chang videos before going.
Italian at The Venetian
We sat down at the Venetian for lunch one day, and had a 3 course Italian lunch. The food was great and the dessert – Italian doughnut – also great! We also got some entertainment when a group started singing in the square. A very nice lunch. 
Strolling through the Venetian you also hear the singing gondoliers. 
Poolday
The best decision we made was to rent a day bed and have a pool day. After all the walking around in the hot sun, this was well needed. The amount that you pay to rent a day bed is given back to you as a food and beverage credit at the pool restaurant and bar. We spent the day relaxing, swimming, drinking beer, frozen margaritas, frozen pina coladas and Tess got sold a froze with a splash of pinot noir on top. We had a fruit plate, poke, buffalo wings and chips and salsa. All in all the food and drink exceeded expectations. We had thought that the food wouldn't be great, but we were pleasantly surprised with the quality and portion size and the drinks were excellent.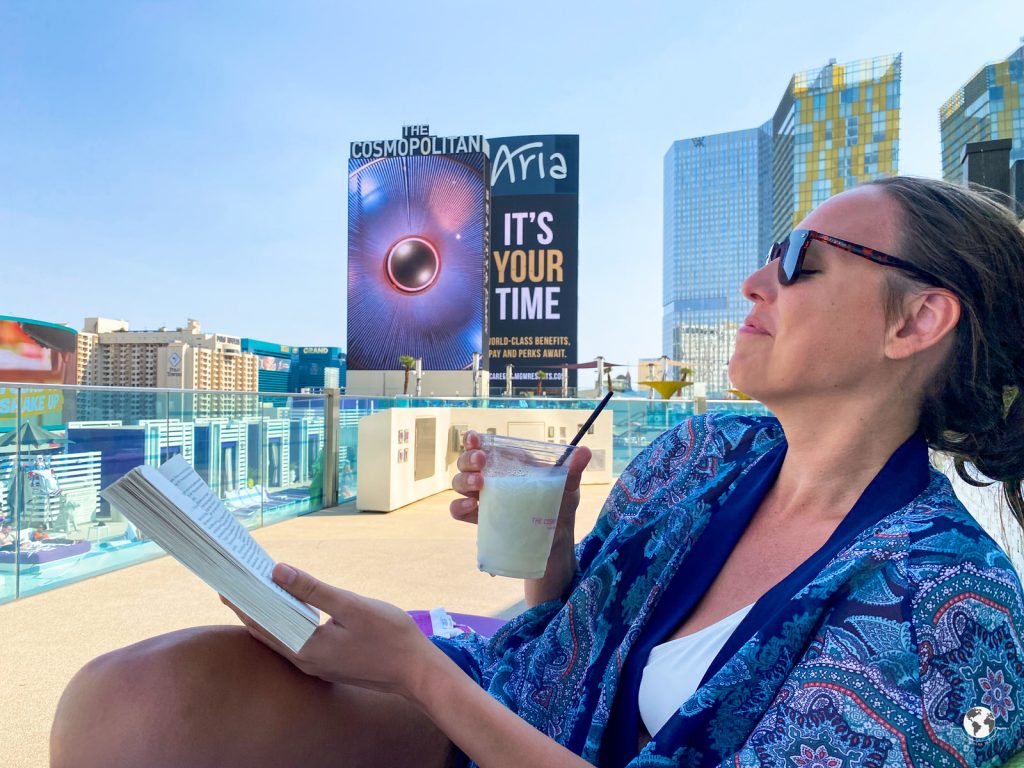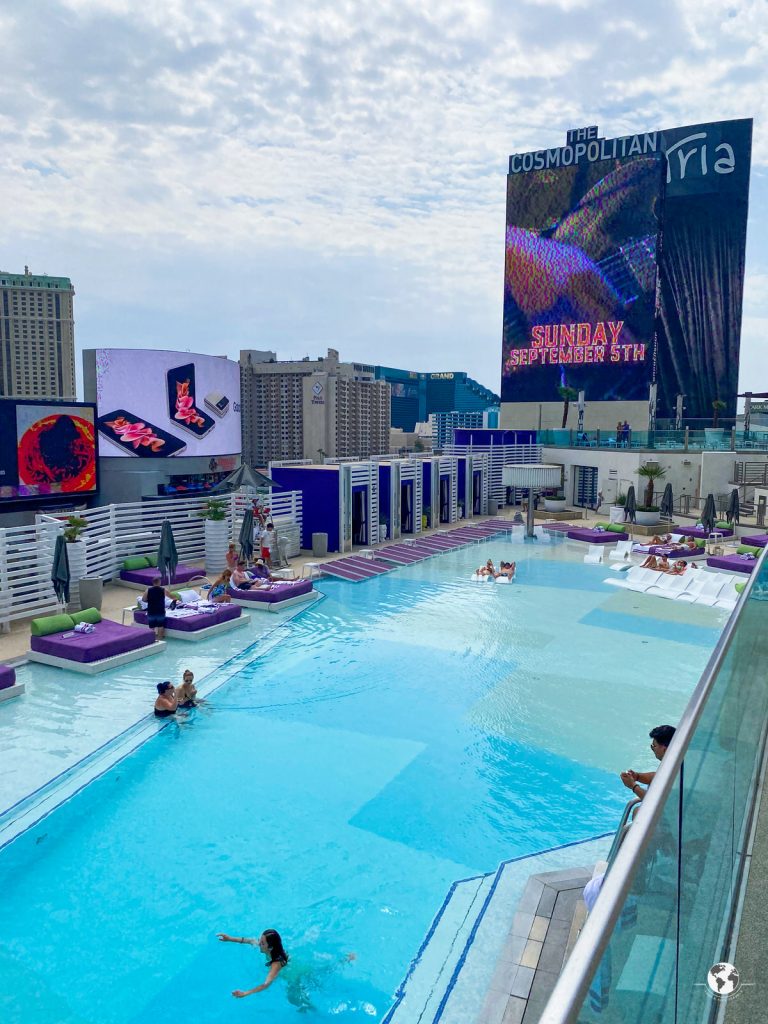 We also had time to visit the second pool at the Cosmo, both were very nice.
Gambling
On our first day in Vegas we walked down to the Venetian to take an introductory course in craps. A number of the casinos offer free "learn to play" courses to encourage you to gamble there. The guy who held it was funny, and talked us through the game and the different bets etc. In the end he said:
"If you liked it, tell people you did it here, if you didn't like it, say that you did it at Caesars". 
We had never played craps, but Alex wanted to learn and it was surprisingly fun once you wrap your head around it. While we never worked up the nerve to play at a table (and the table minimums are at least $10 per game) we eventually found a digital version where we could play together for $3 per game while getting served free drinks. It was a ton of fun and we ended up winning $50.
We also played the slots which were fun, especially the old style ones with the arm. We had less luck at the roulette table, where we lit a few hundred dollars on fire in a matter of minutes. Roulette is stupid.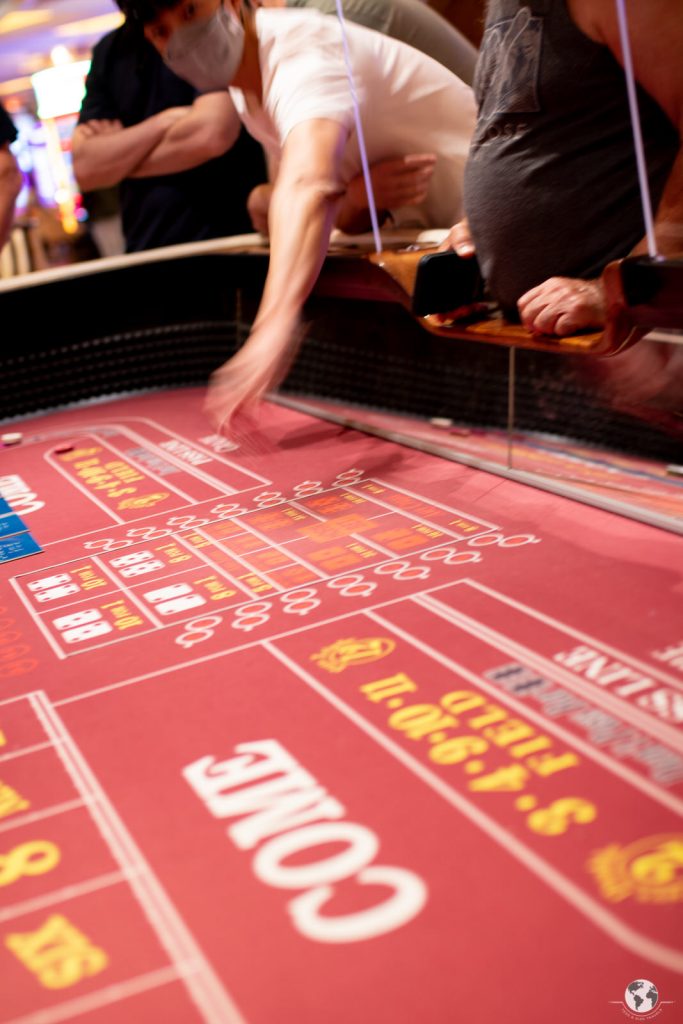 Top golf
Alex had heard that Top Golf was a popular date spot in the US and was eager to try it. In Vegas it is located in the MGM Grand, which was close by and we figured it would be a quick trip over. However, nothing is Vegas is close. We walked and walked and walked.. and walked. After a 15 minute walk through the MGM, we finally got to an impressive building, much bigger than Tess had thought, but it was Vegas so, everything is big. 
Top Golf is designed to be fun whether or not you're good at golf. In the bay that you rent you have a TV that you can tune to the channel you want to watch, a waitress to serve drinks, a couch and all the clubs you need.  There are a number of "holes" throughout the course, and, to make it fun for those of all abilities, you're rewarded for hitting it closest to the hole. However, if you're close to a hole that's further away, you get more points. Tess won the first game and Alex won the second. Because we were out in the Vegas summer heat, we got very sweaty while playing, even though it was an hour. 
Fremont (old Vegas)
Fremont street is the old Vegas from 80's and early 90's movies — like National Lampoon's Vegas Vacation. While it's certainly more shady than the Strip — with an abundance of beggars, it has a lot of old-school vegas character. It features old style casinos with cheaper drinks and lower table and slot minimums. We were glad that we went for a few hours to people watch, but happy to leave back to the strip when we had our fill. 
Mandalay bay aquarium 
We made a trip down to the end of the Strip, going from New York New York, to Excalibur, to Luxor where we placed a sports bet to the Mandalay Bay. After playing some roulette at Mandalay, we went to its famed aquarium, featuring crocodiles, a sting ray petting area and ending in a massive and immersive shark pool where you can even dive with the animals (for a price). While it's a small aquarium, like pretty much everything else on the strip, it was impressive and certainly worth a visit.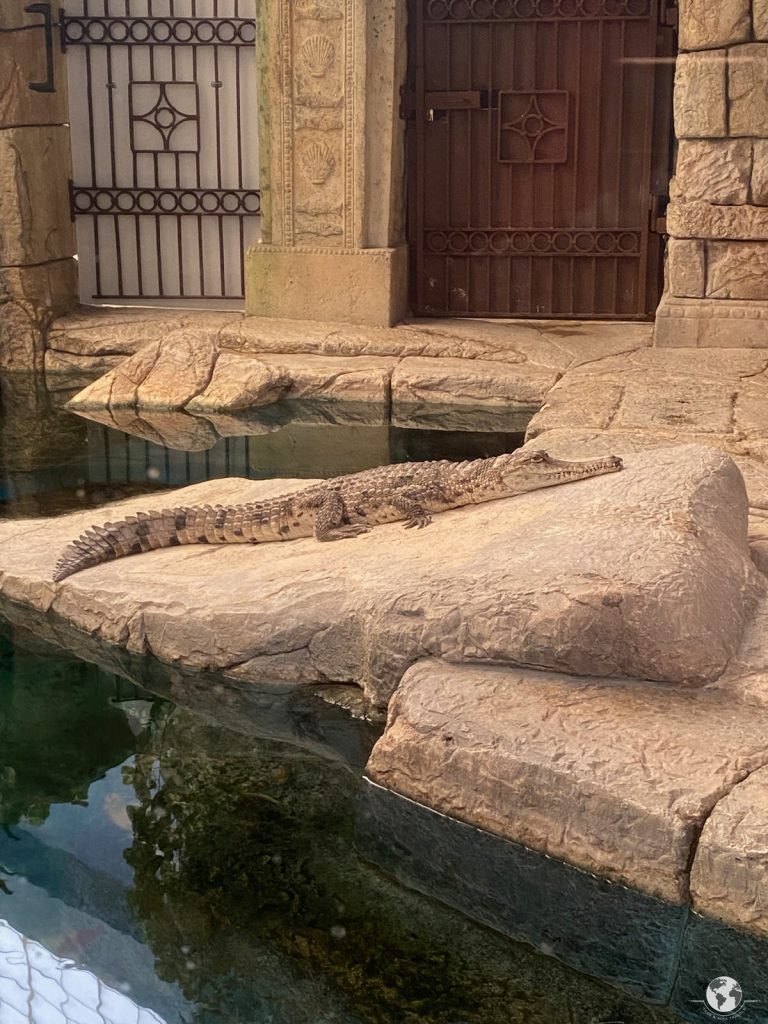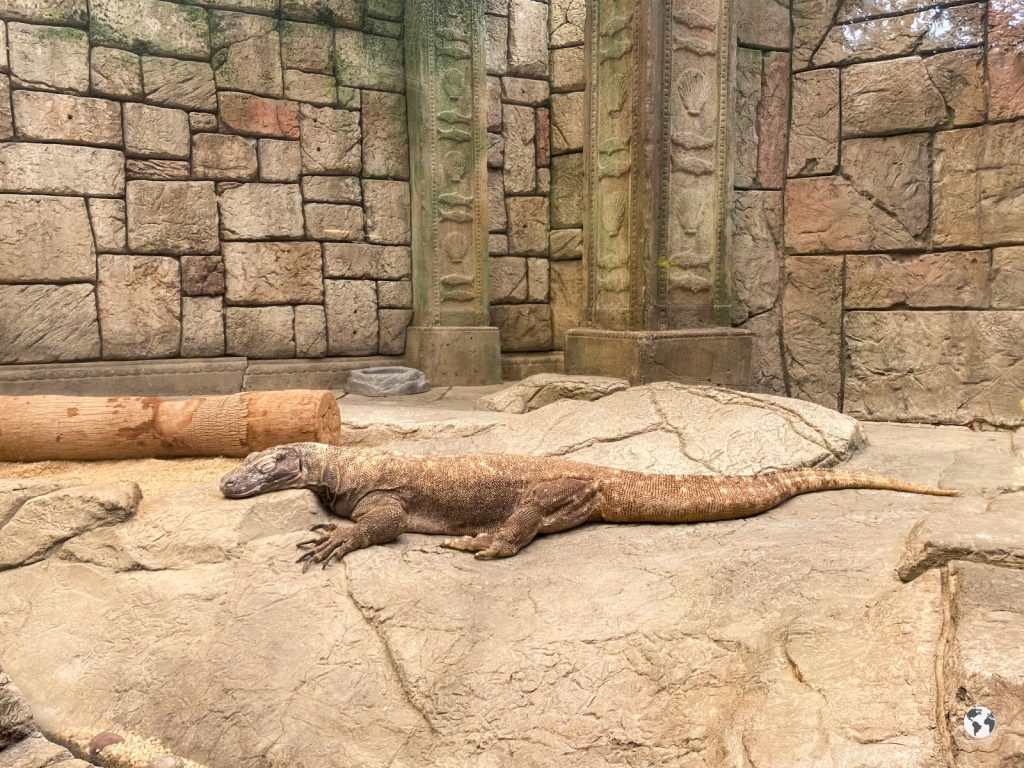 Las Vegas strip
There was too much to see, do and write about in Vegas, and if your body and budget could tolerate it, you could easily spend a few weeks here trying everything. The highlight of our trip was the time that we spent visiting the Bellagio (which we write about below), but Vegas at night is amazing with all the lights, sights, sounds and cocktails. One of our other favorites in terms of vibes was Paris hotel, which as you may guess has a Parisian feel inside. Additionally, we had an amazing donut places in our hotel where we went for breakfast a few days during our stay. 
Bellagio
While the Cosmo was perfect for us to stay in, the coolest hotel in terms of sights was the Bellagio, which you may recognize from the Ocean's 11/12 movies. Featuring a rotating art exhibit and stunning glass flowers on the ceilings, it was by far the most beautiful hotel that we visited.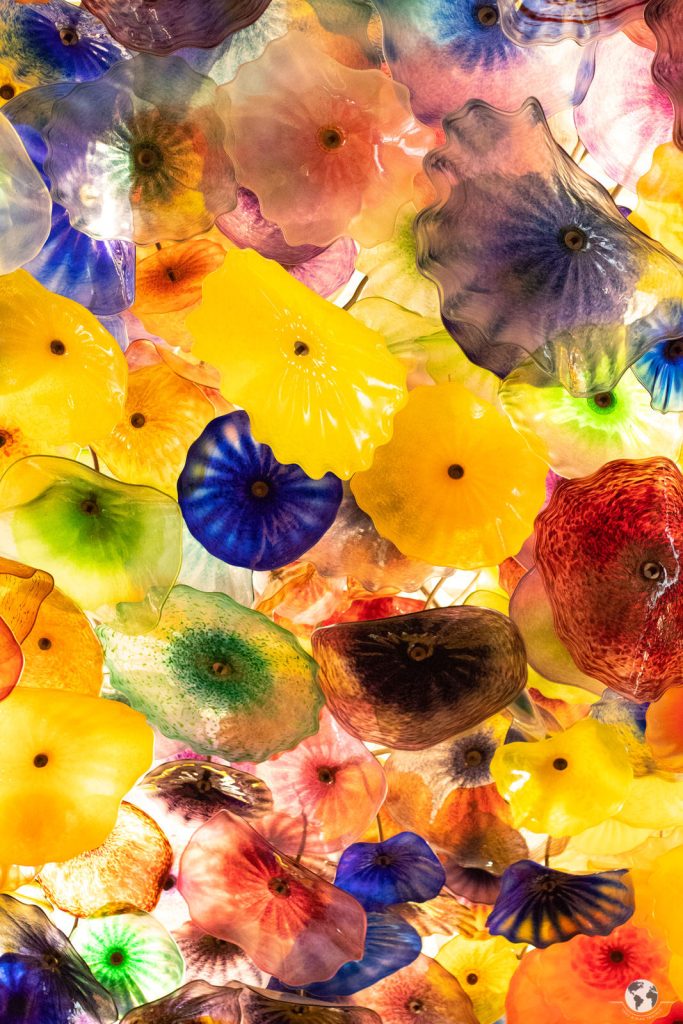 We also saw the O cirque du soleil show at the Bellagio, which featured acrobats performing stunts over a body of water set to music. While we couldn't take photos of the show, and it's hard to appropriately describe the show, it may have been the most impressive thing that we saw in a city that's meant to be impressive. While the tickets were expensive, it was well worth the price. The Bellagio also features fountains that "dance" to music every 30 minutes during the day and every 15 minutes during prime time. We were lucky enough to have a view of these iconic fountains from the balcony in our hotel room and enjoyed at least a show a day during our trip.