Wine, Food & walking
2019 was a great summer. First summer vacation together and – as you might have guessed by now – we made the most of it. We started the spring in Kiev and after that we decided to go somewhere neither of us had been before. That had good wine and warm weather. 
Tess have been to Spain many times, but Alex had never visited the Iberian Peninsula. We stayed for five days and mixes relaxing by the pool with walking tours and exploring food and wine. 
Quick facts: Lisbon is the capital, and the largest city, of Portugal. About 3 million people live in the Lisbon metropolitan area, which represents approximately 27% of the country's population.
Trip highlights: Great food and wine, beautiful views, Pastéis de Nata. 
Points: Local Beer 6,5/10 points, Local wine 8,9 points, Cinnamon buns Pastéis de Nata 8,9/10 points, Lisbon overall points: 8,2 points.
Travel & Accomodation
Flying to Lisbon from Stockholm is a 4 hour and 20 minute flight. And even if it's nice not to hava a layover, that's a long time to sit on a low fare plane. Alex being miserable in the photo below kind of sums up that experience. 
We flew with Tap Portugal, and being tall on one of their planes is no fun. The flight was long and uncomfortable, thats all about that. 
Iberostar Hotel
We stayed at the centrally located Iberostar hotel and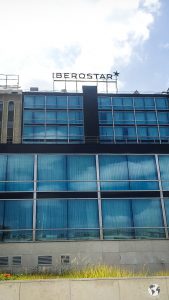 checked into a first floor room that was large, featuring a nicely sized and comfortable queen bed. The room was unique, and definitely not suited for anybody other than couples. The bathroom was semi-open, with the toilet closed off by a door, but the beautiful rain shower was in the center of the room encased by glass, which was frosted from our mid thighs to our shoulders. Privacy was certainly at a premium there, but we enjoyed it. 
Our room overlooked the pool, which was surrounded by a small patio area with pool chairs, a bar and a grassy lounging area. Pool chairs were, at times, tough to come by, but we didn't mind plopping down on the grass when we needed to. The warm weather of Lisbon made the pool extremely refreshing and it was nice to have the bar out there, and we ordered drinks liberally. We also were able to order some appetizers out to the pool, which we took advantage of. Considering it was poolside at the hotel, the drinks and food were extremely reasonably priced, as our bill totalled $80 for the duration of our stay and we ordered food and drinks very liberally while we were there. We'd definitely reccommend this hotel for couples. 
Food & Drinks
We chose the places we ate at with care, and relied on locals giving us fantastic tips and telling us about places we never would have found on our own. So we ate great. Lisbon has fantastic, very good value, restaurants if you stay away from the big tourist traps. 
Here are some of the places we checked out: 
Sessenta
Trip advisor found us our first meal in Lisbon. We walked around a bit after checking in to the hotel and Alex found Sessenta. A little bit hidden on the backstreets of a neighbourhood that felt homie and local, Sessenta felt very acclaimed and had very good reviews and awards on the door. 
Both of us had three courses paired with white wine for Tess and red wine for Alex. The whole meal was very nice and even if the staffs english was limited, they made up for it in good service. 
We both had a soup as a first course, then Tess had pasta with chicken, olives and parmesan and Alex had pork ribs. The dessert was a chocolate cake that was only okay. 
The food was not great and not good enough for us to go back during our trip, but still good and the wine was fantastic. It was priced a little bit over average if we look at all our meals, but still very good value for a big meal. 
TimeOut market
The market was on the list of "things to do in Lisbon", and was worth a visit. However, it was fairly chaotic and loud. Very crowded around lunchtime and hard to get a seat, even for two. We tried one of the seafood restaurants and it was good but not great. We didn't go back and I could probably skip it next time we're in Lisbon. 
Super Marios
This is one we will remember for the rest of our lives. Our walking tour guide gave us the name of a restaurant called Super Marios and told us it was traditional Portuguese food and experience. So we thought that sounded like a fantastic idea, right up our alley. We had some wine on our way into the centre and wasn't in a hurry – nor were we hungry, which in hindsight was very good. 
We walked with the map we were given and passed the door twice before realising we were at the right place. It had like a metallic kitchen door with a sign that said closed. But half of it was open and we saw people in the restaurant so we squeezed in and got a look at the place. It kind of looked like the end of the night in a canteen, where everyone ate and took of. There was plates, glasses, napkins and leftover food on all tables. On one long table in the middle there was a big group of friends talking and having a good time, but other than them, and a couple in the corner, the restaurant was empty. 
Mario greeted us and getting a table was no problem. He half cleaned one of and invited ut to sit. He came out to change the paper cloth to a new one and gave us menus. Tess ordered the swordfish and Alex the pork ribs. We ordered a bottle of wine to share and took in this slightly chaotic view that was Super Marios. He didn't speak any english so we relied on pointing and charades. 
He walked by our table many times, once to have Tess stand up and mime to everyone in the restaurant that she was very tall and he was short and fat, several times to point to his ribs and shout "Carne" while laughing, to which Alex responded yes (the order of ribs was correct), but never with our food. 
It was a good show though, him running around talking to everyone, the table of friends making jokes with or at him, him walking by – again – pointing to his ribs shouting carne! I think we laughed the whole night. 
At last, Tess got her swordfish. She finished it, the bottle of wine was empty and an additional beer as well before the ribs finally arrived. No comment more than an additional Carne! 
The food was very good and after befriending the older couple next to us (who probably took pity on us due to the lack of food) we understood that this was a family place. Mario handle the restaurant and his wife the kitchen. They also insisted we try their desserts (that they didn't order), and said that this was one of the last local Portuguese restaurants left in Lisbon, and that they came there at least once a week. They were very sweet.
Two couples came in and sat down at the table next to us, and they used the paper cloth on the table to write down their order, rip it of and hand it to Mario – they'd been here before. 
When it was time to get the bill, we tried to get Marios attention to pay and somehow ended up with two more beers. Eventually he came over, wrote the number 23 on the paper cloth, half circled it, shrugged and laughed. 23 euros for the meal – and entertainment – was the most value meal on the trip. 
We highly recommend it if you're in Lisbon, lets help Mario stay in business. Be sure not to be to hungry when going though, and – write down your order on the table. 
Adega Dom Luis
Our eclectic  wine tour guide Paolo gave us another valuable suggestion for a dinner experience. A place where he and his wife spent many nights enjoying "real Portuguese food and tasty wine". He told us to say that tall Paolo sent us and to get there on time because they're always full. And, that it would be our best meal in Lisbon. He was only wrong about one of those things.
Located across the street from the English Council it was easy to find. With a small outdoor seating area and a small dining room, with the bar taking up a third of the space (priorities, right?), it had a very cozy and homey feel to it. 
This restaurant was a family place as well, the owner Luis took care of guests, his wife the kitchen and his son handled the bar. We were the only people in the restaurant, so we were well taken care of. 
We stared with asking for the wine menu, and Luis friendly told us that what we drink depends on what we would like to eat. This guy knows his stuff. We started with an appetizer of clams in a broth of garlic and something made of pure genius. We cannot hype this enough, it was SOO good! We will consider going back to Lisbon just for that dish. Fantastic!
If you go to Lisbon this is the only must eat that we have.
We ate it wrong at first, eating the bread with butter and the clams with a fork. Luis told us that you scoop the clams and eat them in their shell, and dip the bread in the broth. It made a fantastic dish even better.
For main Tess ordered the fish stew and Alex had port cheek. Luis kindly asked if Tess ever had this classic dish before and when the answer was no he offered to "make the bed". This meant that you put the food on the plate in a specifik order. He started with the spicy sauce, then the fish stew and finished with the potatoes. It was a tad spicy, but not to much and the fish stew was great. A whole new taste. 
Alex pork cheek was good but a little dry. After the meal Luis told Alex that he didn't really care for it either. The wine paired perfectly with the food – of course. 
We did say that Paolo sent us to which Luis replied "Tall Paolo? He's a bit loco." How very true. We were alone in the place the whole meal, so it was not true that its always full, but given the size of it we did see that that might happen. 
Sacramento do Chiado
The hotel gave us a great tip for our first dinner in Lisbon. A neighbourhood called Sacramento in the heart of the city. There they told us to find this restaurant, which was supposed to be one of the best places to eat, and it was. 
A very cool looking place with a hipp atmosphere and good looking menu. We started with a drink at the bar while waiting for our table, and sat in a huge cozy couch.
Tess had a starter of fried goat cheese with strawberry marmalade which was fantastic! Fried cheese almost never fails but this combo was a real success. A little bit to much in hindsight, but worth it. 
We then had a good meal, cod fish for Tess and grilled octopus for Alex (cod was better than octopus). Good food and ambiance. We recommend it. 
Wine & Beer
Lisbon introduced us to vino verde, which is a green wine that is only made in Portugal. It's very light to drink but at the same time packs a lot of flavour. Perfect for warm days and very easy to drink. 
Portugal has a lot of good wines, but more about that on the wine tour. 
The only local beer that we tried was Sagres, which was okay, just a regular light beer. Also good in the warm weather. 
The great thing about Lisbon is that at almost any place, bar or restaurant, you can sit down and have a great bottle of wine (or glas) for a very good price.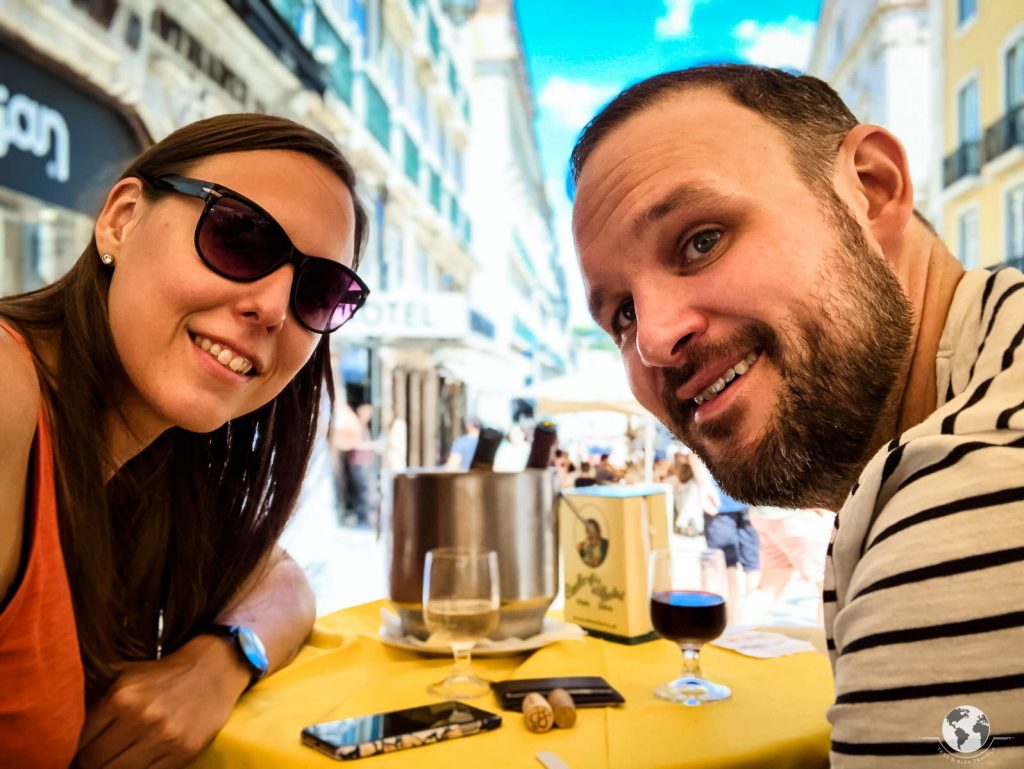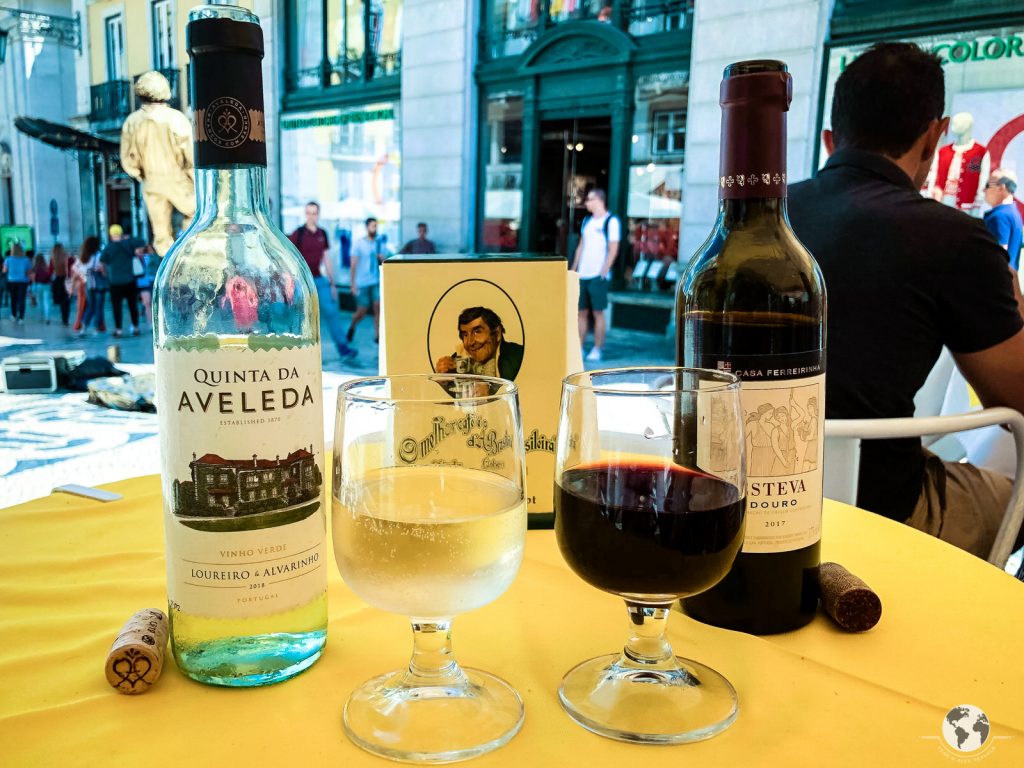 Wine tour with Paolo
We found a wine tour that took us to different vineyards but not to far from Lisbon. A private tour with a very eclectic guide called Paolo. 
Paolo picked us up at the hotel and drove us around in a minivan. Our first impression of him was that he was annoying and crazy. But he grew on us and by the end of the tour we found him very amusing – but still crazy. 
The first stop was a winery with a wine cellar. Here they made the wine, aged and bottled it. It included a tour and a history lesson about the wine, the grapes and the company. Turns out a Swedish king and a former American president had visited the winery.
We arrived early and had a coffee outside, and Paolo showed us around the little village and a small marketplace – all located on the same street. 
The winery staff sat at the table next to us and had their morning coffee. When it was time to open, Paolo left us in their knowledgable hands.
They had some vines in the garden, but they were just to show the type of grape they use and were not used to make their wine. 
In the cellar, it was cooler and dark, and from speakers way up in the ceiling, they played Georgian munk hymns. Our guide said it was because the vibrations of the music helped the wine, but added that there's no scientific prof of this, just age old traditions. In the back room of the cellar, which was guarded by an old metal gate, was the family's private storage. Only on very special occasions is it opened and bottles removed. It looked the part – very old and dusty. 
We finished the tour of the winery with a tasting of two of their wines, one sweet red dessert wine and a regular red, both very nice. Paolo was back and in good form, taking over and talking us through the tasting. 
Tiles
The next stop was not in the original tour. When we told Paolo that Alex was from the US, he insisted we go look at tiles. Americans love Portuguese tiles, he told us. And slowed he car down so that his boss – who was with another couple in the car behind us – would pass us and not see our little detour. 
He took us to a place where they produce, design and sell tiles. Handmade tiles. It was pretty awesome, not because we love tiles, but because we got to se this amazing craft that these people created. 
A very funny man told us about the process, but was constantly interrupted by Paolo, jumping in and telling it for him. 
We got to try it ourselves and of course we bought an original tile, and some souvenirs.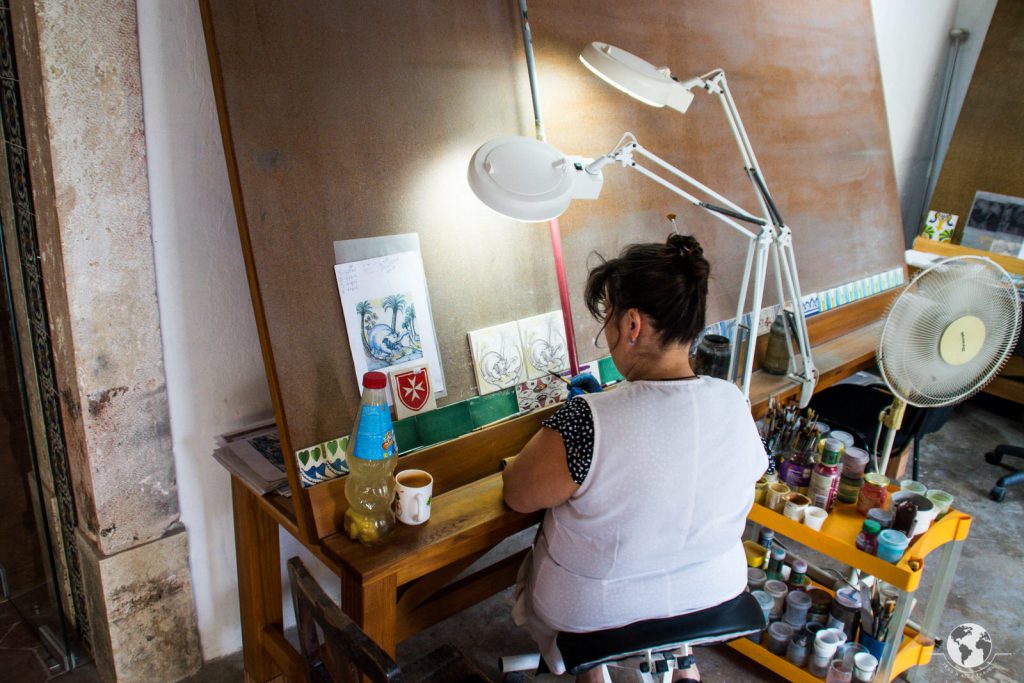 Alcube
Finally we got to see an actual vineyard. First rows and rows of cork trees and then rows and rows of vines. Paolo stopped the car and practically forced us out to inspect the cork trees and took yet another detour to show us the oldest cork tree in the region. 
He explained that they are marked with the number from the year they were last harvested. Take this with a grain of salt because everything he told us did not turn out to be true. More on that later. 
We did appreciate his enthusiasm and will to go the extra mile, and this was 2019 and the trees did say 9.
The drive there was beautiful, through a national park with mountains on each side and clouds hanging low over the hillsides.
The vineyard was a bit hidden, and didn't look like much when we got there, but the wine was very tasty and the surroundings beautiful. 
We took a walk among the vines and tasted the grapes, after Paolo insisted it was okay and shouted "free of charge, free of charge!"
He took a very nice photo of us among the grapes, and by this point we started to really enjoy his craziness. 
After walking around among the grapes and the red soil, we sat down on the terrace and Paolo brought us four wines. 
On a table containing corks we had two reds and two whites, and some chips. The wine was great, and turns out, very cheap. We ended up buying the most expensive red and it cost us 8 euros. It was quiet and calm and we sat there enjoying the surroundings. 
Last stop was a wine tasting in a village in the mountains. Very empty and secluded. Luckily we also got some cheese and crackers, since Tess was getting tipsy from only drinking wine. 
Quotes from Paolo
"Everything is amazing, fantastic! I love it here." (about every stop we made).

"We need you – the tourist."

"This time is the best time to invest in Portugal!"

"Lisbon is the safest city in the world."

Elaborate story about how "the word tea originated from Portugal". 
When we came back to the hotel we fact-checked him and almost all facts were incorrect. Even if told with much enthusiasm. 
Walking tour
We took a walking tour around Lisbon, and it took us to hidden gems and backstreets that aren't always on the classic tourist tours. Our guide was an old history teacher born and raised in Lisbon, who showed us the best parts of the city. He also gave us some great food recommendations and ended the tour upp on a hill with a beautiful view. We highly recommend doing this, its a great was to see a city and learn more about it from its locals. 
Beautiful Lisbon
Lisbon is truly beautiful, and just walking around is a photographers dream. If you've made it this far, reading this very long post, thank you. Please leave a comment and say hi! 
We'll end it with our last activity in Lisbon before we headed to the airport, Lisbon aquarium. This cylinder shaped amazing aquarium is worth a visit. You start at the top of the central tank and walk around in descending circle to the bottom of the tank. On the sides of the main tank are fish and animals from different climates across the world–the North Atlantic, the Antarctic, the Pacific kelp forests and the Tropical Indian Coral Reefs. It's not clear at first that these exhibits are connected to the main tank until you get to the very bottom and can see that they're all connected together with the main tank, with the point that the oceans are all connected. Tess favourite was for sure the penguins, that coincidentally posed for the coolest photo on the trip.