The city of man purses
Being the first real vacation together, a short weekend to Kiev, seamed adventurous for the both of us. Neither one had visited Kiev or Ukraine before and was unsure of what to expect.
Quick facts: Kiev is the capital and most populous city of Ukraine. It's located in north-central Ukraine along the Dnieper River. And, it's one of the oldest cities in Eastern Europe.
Trip highlights: Very tasty and good value food, cheap transportation and friendly people.
Points: Local Beer 6,5/10 points, Cinnamon buns 8,9/10 points, Kiev overall points: 7/10 points.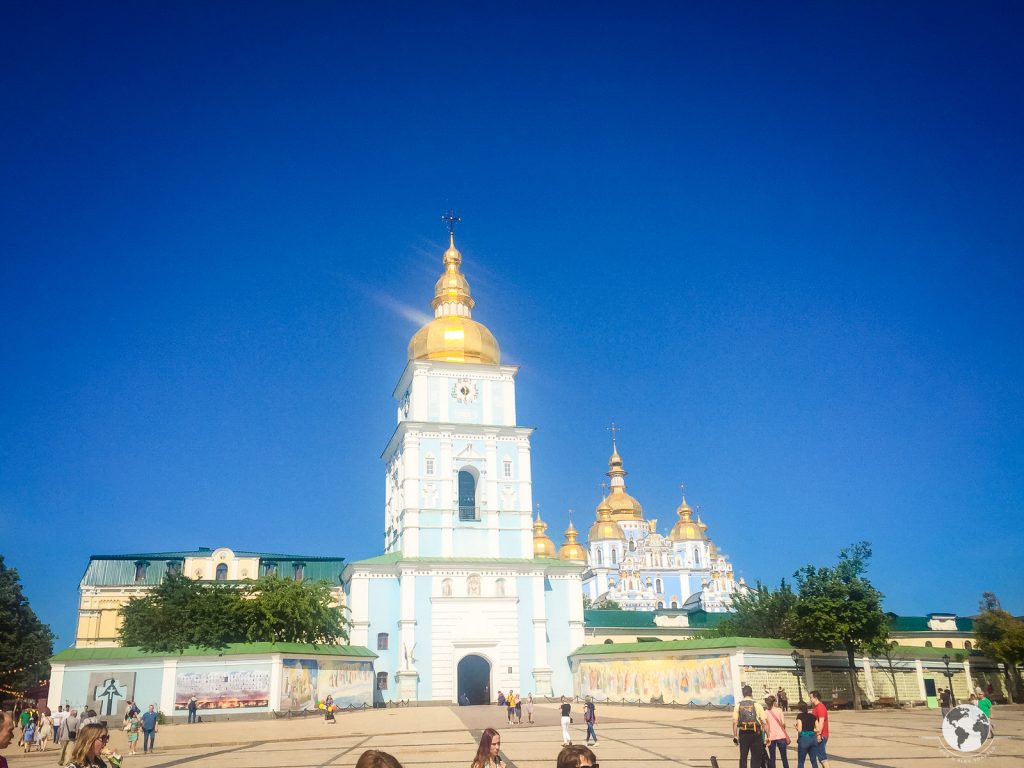 Travel & Accommodation
The flight to Kiev is shorter than you might think, or it was shorter than we thought anyway. Just over two hours direct and fairly cheap for a round trip ticket. We flew with the local airline Ukraine international and for the two hours duration it was an okay flight. 
The hotel we stayed at was very nice, fairly central and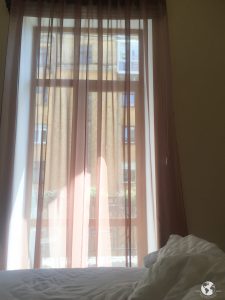 except for a pretty hard bed (and the accusation of stealing a hairdryer that we never saw) and a toilet door that didn't properly close, it was better than expected. Staff was very helpful and we had walking distance to get breakfast in the morning, which wasn't included since the hotel didn't have a kitchen. (and to compensate the false accusations they gave us a huge chocolate box).
We felt the area was very calm, quiet and safe to walk around. 
Food & Drinks
Knowing very little about Ukrainian food, we didn't know what to expect. We got some very nice tips on places to eat from a colleague of Alex and none of them disappointed.
One specially good one was a Georgian restaurant called Mama Manana. We'd heard it was fantastic and it did not disappoint. 
We also strolled in the centre and tried some good looking places. Every meal was better than expected and Kiev really left us impressed. 
Walking tour
Something that we have done several times is to take a walking tour of a new city, or any city really; there are some great ones in Stockholm as well. It's a great way to explore a new place and get someone local to talk about and show you their favourite places and history. We did this in Kiev, and we also watched a documentary about the civil war that happened not to long ago in the very centre of the city. So we did have some backstory, but walking with someone that knows the city as a local and grew up in the country is a totally different experience. 
Our guide was Kate and she met us at the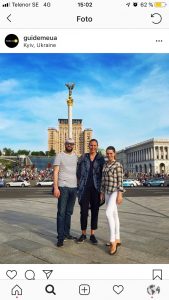 hotel and we started to make our way through the city. We started in one of the many beautiful churches. They are often decorated in gold and hold a lot of treasures, both in historic and monetary values. 
She talked about the huge underground railway that also works as a functioning bunker, which was a very long escalator ride, she talked about the many beautiful houses that was empty inside because for some reason the company ran out of money or the government retracted their permits or another – for us – strange reason. 
The thing that stuck with us the most, other than the fact that in Ukraine you can pretty much buy a diploma for any job (which made us a bit nervous flying with an Ukrainian airline), was when she talked about the situation in the country, the politics and the upcoming election and we asked her what she thought about the future and weather she thought it would get better. Her answer: No, it never will. For someone as young as Kate (maybe in her mid to late 20:s) not to have hope for the future, that was hard to hear coming from countries where you have all the opportunities in the world. 
She was a very good guide and was very knowledgable and good at her job, and we wished her the best of luck before parting ways.
War museum
We took a trip to the Kiev war museum, which is a short car ride from the city. The monuments were huge and the museum not only holds a lot of content from the second world war, it also shows a lot of things from later wars, and the one that is still ongoing. 
The first room was a tribute to the soldiers who fought the war that still goes on to this day. It was scary and strange to read and see the current war in the same setting as the other wars, seams like Europe should have come further. 
Kiev on foot
Walking around among cobbled stoned streets, big green woody areas mixed with urban city concrete houses was pleasant and interesting. This city, and this country, has a lot of history and is a good weekend trip. 
Kiev poster
One thing that stuck in our memory of Kiev was all the murals, and for our first poster we wanted something that represented the Kiev we experienced. This is the one poster Tess made, but did not take the photo. 
It's an interesting representation that tied Kiev together for us, but we'll leave you to make your own interpretation.